Happy hour of the damned
The drinks are strong, the sun is bright, and everyone is fighting the inevitable. This is the scene of a little-known event, 7 am early morning happy hour for night-shift workers. The inevitable is the sleep that needs to come behind heavy drapes while the world noisily starts its day during OUR night, but first, we blow off some steam after work with a rarely acceptable combination of beer and eggs. It's a great time of day to have a mimosa or other fancy drinks you are embarrassed to try during busier bar hours. My choice is a pineapple mojito garnished with an umbrella, and I intend to hold my pinky high!
Around me are nurses, third-shift factory workers, cops, perhaps robbers too. I am an airport worker looking as weary and worn as anyone here. Not much flirting is happening at this happy hour, most of us barely looking in a mirror before leaving work, maybe quickly smoothing our frizzy hair down into a palatable shape with moistened hands. A quick buzz and some gossip with co-workers are the order of the morning although I do flash a smile at the table of nurses wearing scrubs of all the colors of the rainbow. One has a bloody mary with a cheeseburger slider on a stick coming out of it, my next drink order is now decided. 
There is always a little fear looming in getting that third drink in uniform or with an ID badge around your neck. A curious person might think some rebellious workers are drinking before work and, in a weird way, we are as we will be getting back to work today at 10 pm or so. Not to worry though, all of us oddball night-shift workers will go home soon and sleep off these drinks in the five or so hours most of us eek out while trying to live some semblance of a normal life before it all starts over again, maybe ending with a tequila sunrise.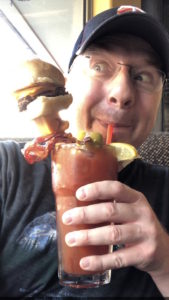 Shawn Hinnant lives in South Dakota. You can find him on Instagram here!