If the LA promotional instincts of Angelyne and the sizzling sugar artistry of Britney Spears were put into a star generator, it would be teen pop sensation-turned-TV-host Devin McNulty. She's the host of Drinks With Devin, a glam video series with cocktails, candy, and advice for young celebrities.
Vodka sodas are stirred and consumed next to a medicine cabinet of Red Hots and Sugar Daddies as Devin chats with everyone from her grandma (who tells a sweet story about writing a drunken lipstick note on a bathroom mirror for her husband) to electro-pop duo Sofi Tukker.
And speaking of Angelyne, she once said in an LA Weekly interview that she didn't need to use social media because "that's all virtual. I'm real!" And while Devin is on social media—you can find her on Instagram here, in fact—her zebra-striped-candy-pink world can also be found IRL on LA sidewalks with her "Looking for a Fanbase" flyers.
It was a PLEASURE to e-chat with "(t)hot child in the city" Devin McNulty!
Tell me about your series Drinks With Devin. Who is she?

Devin is a teenage pop sensation. She gives advice that you most likely shouldn't take, but she's going to give it to you anyways. It's all a big ruse to drink cocktails in the middle of the day in bed and talk about herself to interviewees who don't realize what they got themselves into until it's too late. As the theme song goes, "She's a little slice of hell and heaven, she'll drink too much, she's probably nuts, you'll fall in love, and then regret it."
Your presence has a strong Very Famous energy! Tell me a little about your fab world.

Candy and bubble gum is a very important part of my world. I keep a stocked pantry. You are what you eat and I am sweet.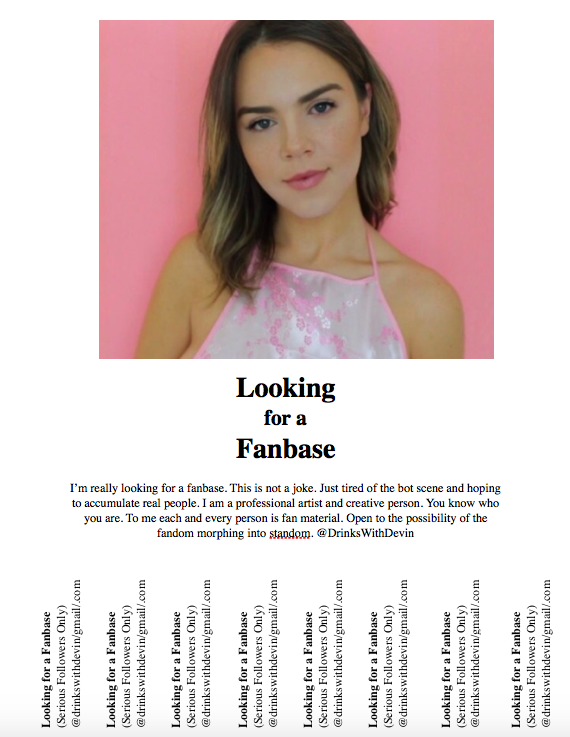 I LUV your "Looking for a Fanbase" flyer. An online persona is important, of course, but that IRL on-the-ground marketing is key. Where are you at on your fame quest?
Rubbing shoulders with the gliteratti IRL is so key to maintaining my fame and fanbase. Yes I can comment "MISS U HOTTIE" on all of my friends pictures and like all of the "Devin you're my idol" comments from fans, but what they're going to remember is how much fun they had when I arrived to the club in a zebra-striped tractor trailer, rollerbladed through the crowd, and tossed Sour Patch Kids like they were confetti. Or saw it on TMZ the next day. And that keeps my thots coming back for more.

Who are the people—celebrities and otherwise—that you're most fascinated with right now and why?

I'm obsessed with Barron Trump right now. He is one of those rare celebrities whose life and upbringing is so wild that you couldn't make it up—like Paris Hilton or me. I'm also so interested because there's something seemingly sad and empty in his eyes—like 2007 Britney—I'm COMPLETELY projecting. I have an eye for beautiful and sad celebs. Takes one to know one!

What's next for Drinks With Devin?
World domination and a haircut.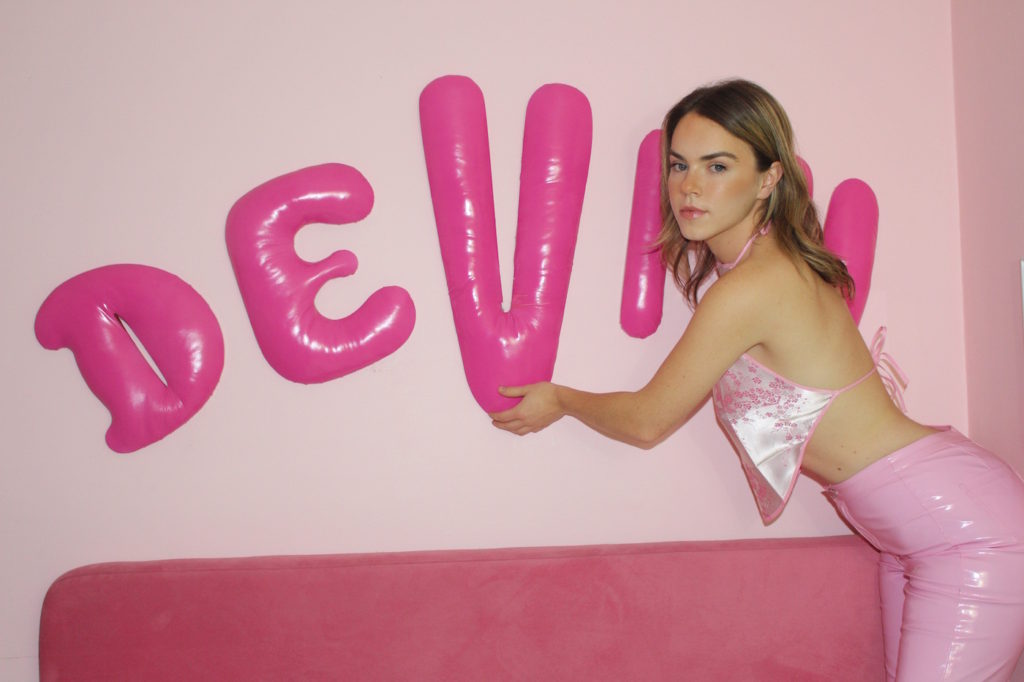 **Now! A rapid-fire round inspired by Twist's 1999 interview with Britney Spears.**

🍒 Name: Devin
🍒 Birthday: November 18th 199…
🍒 Sign: $c0rPi0!!!!! Watch out ; )
🍒 Occupation: Teenage pop sensation

🍒 Charlie XCX's music puts me in a good mood.
🍒 Nothing makes me want to dance more than: ABBA!!!!!!!!!
🍒 Sexy is: Intelligence
🍒 If I ruled the world, I'd: Bring back episodes of Making the Video and reunite Pam Anderson and Kid Rock
🍒 Biggest rumor about me that isn't true: I'm dating Martin Shkreli
🍒Three dating tips: Date someone who likes you more than you like them,
🍒 The worst thing about being famous: my h8rs
🍒 The best part: my h8rs